Festival «Winter Sea 2016» in Saki has collected «walruses» from all over Russia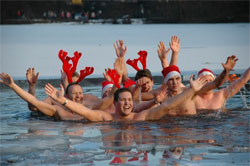 A record number of participants were present at the opening of the annual festival of winter swimming enthusiasts "Winter Sea 2016" in Saki. A week before the start received 161 applications from the Crimean cities of Russia and Ukraine.
The participants formed 11 teams, who will gather in the Plaza of the Revolution and under the sounds of the orchestra went to the sanatorium "Sakropol" where the opening ceremony. Swim traditionally held on the beach of the sanatorium "Poltava-Crimea".
In addition to the mass swim, the festival was held beginners initiation "walrus" and rewarding veterans winter swimming enthusiasts.
Sea temperatures along the West Coast of the Crimea was about + 10 °
Source: krym.news
Photo: Крым.news