The festival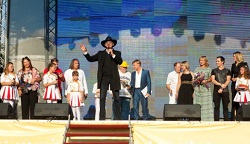 The beginning of autumn Evpatoria celebrates a great holiday of cinema art - the Open festival of children's and family cinema "Sunny Island". The grand opening ceremony took place on September 2 at the Theater Square.
The program of the festival, which lasted until September 7, included seven creative meetings with the participation of Russian celebrities at the International Center for the Performing Arts "Golden Key".
The audience was presented concerts with the participation of Russian stars - Mikhail Boyarsky, Dmitry Kharatyan, Sergei Krylov, Rodion Gazmanov, master classes and, of course, film screenings.
"Sunny Island" is a socially significant project aimed at acquainting, promoting and preserving the best traditions of Russian cinema art, developing the creative abilities of the younger generation, shaping their spectator culture, and also an excellent entertainment option on vacation in Evpatoria.
Source and photo: e-zdravnitsa.ru